30' Obstacle Course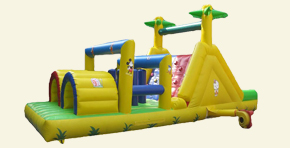 Here is the unit that demands high energy for those kids who just need more to do, this is it. Not only is it great for birthday parties, it can be used as a great team builder.
With shoes off, start at the tunnel end and race through it to the bobbers, dodge your way through and climb the wall, then slide down to the finish. Race around and tag your buddy to start their turn.
This is sure to book up quickly, so please call early to avoid disappointment. As our rules request, supervision is required all times and we recommend at the start and finish.